Ferguson's Lectures on Select Subjects in Mechanics, Hydrostatics, Hydraulics, Pneumatics, Optics, Geography, Astronomy, and Dialing (3 volumes)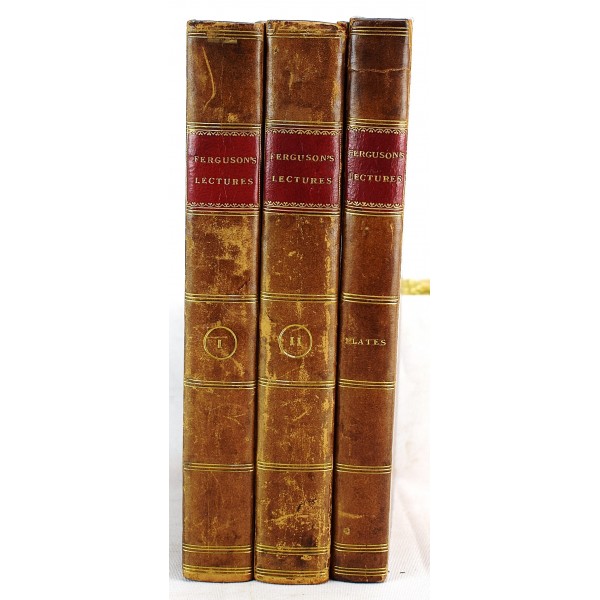 Ferguson's Lectures on Select Subjects in Mechanics, Hydrostatics, Hydraulics, Pneumatics, Optics, Geography, Astronomy, and Dialing (3 volumes)
BREWSTER, Sir David (1781-1868).; The second edition. With: Plates illustrating a new edition of Ferguson's Lectures. [Contributor]
 Bell & Bradfute, 1806
3 volume set. Two text volumes and one plate volume (Plates illustrating a new edition of Ferguson's Lectures).  2nd ed. Bound in contemporary polished calf. Plate volume is bound in 3/4 leather.  Gilt ruled, with red spine labels.  lxviii, 422, [1]; x, 510, [2] pp.  Internally, generally clean and unmarked.  A few scattered spots. 
Ferguson was a noted Scottish astronomer who helped popularize Newton's astronomical work. "Ferguson's 'Astronomy explained on Sir Isaac Newton's Principles' was published in 1756, and met with immediate and complete success. The first issue was exhausted in a year; the thirteenth edition, revised by Brewster, appeared in 1811, and the demand for successive reprints did not cease until ten years later. Although containing no theoretical novelty, the manner and method of its expositions were entirely original. Astronomical phenomena were for the first time described in familiar language. The book formed Herschel's introduction to celestial science." - Agnes Mary Clerke, "Ferguson, James (1710-1776)", Dictionary of National Biography, Vol. 18, p. 343-7.  
This is an oversized or heavy book, which requires additional postage for international delivery outside the US.