Description Geographique, Historique, Chronologique, Politique, Et Physique De L'Empire De La Chine Et De La Tartarie Chinoise: Enrichie Des Cartes Generales Et Particulieres de ces Pays (4 tomes)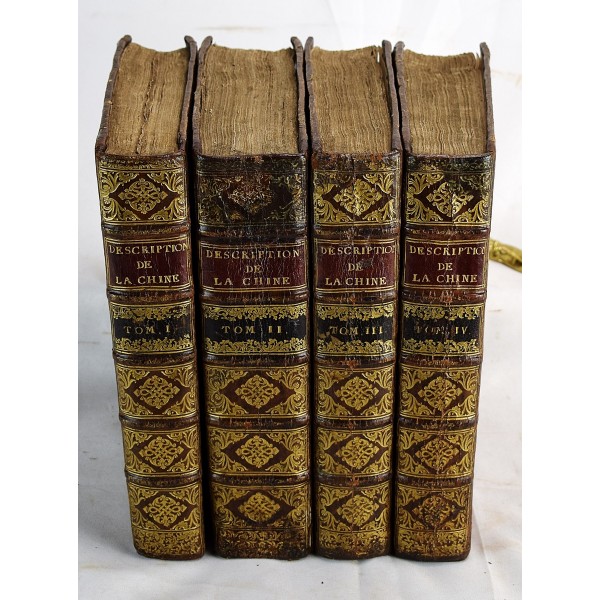 Description Geographique, Historique, Chronologique, Politique, Et Physique De L'Empire De La Chine Et De La Tartarie Chinoise: Enrichie Des Cartes Generales Et Particulieres de ces Pays, de la Carte generale & des Cartes particulieres du Thibet, & de la Coree; & ornee d'un grand nombre de Figures & de Vignettes gravees en Taille-douce (4 tomes)
 Jean Baptiste Du Halde; DuHalde
Henri Scheurleer, 1736
4 volume set. Quartos, 26 x 20 cm.  Bound in contemporary full 1/2 sheepskin.  6 gilt decorated spine compartments.  2nd edition.  A handsome set.  Very good bindings and covers. Clean, unmarked pages. Title pages in red and black. [ii], lxxx. 488 p. xxxvi; vi, 834 p.; vi, 652 p.; ii, 606 p. cxxviii.  Complete with 53 illustrated plates. 22 of which are fold out.
An important and influential account of China by Du Halde, who synthesized the reports of 27 Jesuit missionaries, as well as other early travelers to China. "Historically, this work must be regarded as monumental. Its strength lies in the vast amount and variety of interesting details, which must have given its readers an impression of the magnificence of the Chinese empire, and the wide range of achievements of the Chinese people in literature, science, philosophy and art" - Lowendahl. Refs:  Cordier Sinica 48. Lust 13. Lowendahl 398.  Brunet II, 870. (1st was published in 1735).  
This is an oversized or heavy book, which requires additional postage for international delivery outside the US.