Dear Papa, Dear Charley: The Peregrinations of a Revolutionary Aristocrat, as Told by Charles Carroll of Carrollton and His Father, Charles Carroll of Annapolis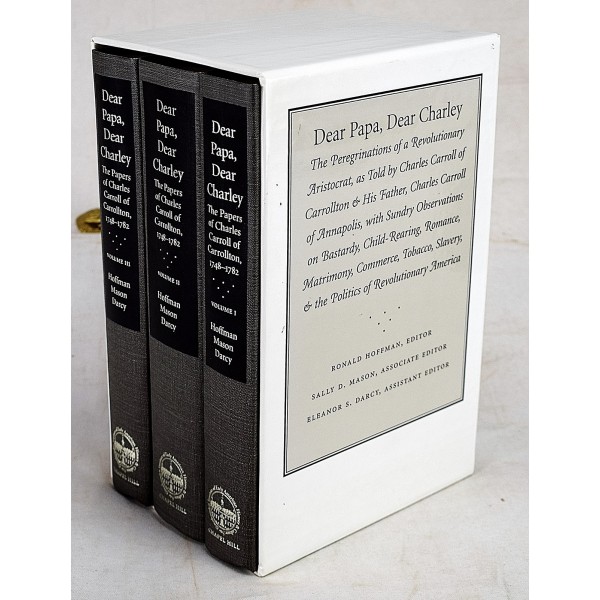 Dear Papa, Dear Charley: The Peregrinations of a Revolutionary Aristocrat, as Told by Charles Carroll of Carrollton and His Father, Charles Carroll of Annapolis, with Sundry Observations on Bastardy, Child-Rearing, Romance, Matrimony, Commerce, Tobacco, Slavery, and the Politics of Revolutionary America
Hoffman, Ronald; Mason, Sally D.; Darcy, Eleanor S.
Univ of North Carolina Pr, 2001
3 volume set. Bound in publisher's cloth. Hardcover in slip case. Good binding and cover. Minor shelf wear. Clean, unmarked pages. 1651 pages : illustrations, maps ; 25 cm.
"A collection of correspondence between a father and son. It documents the history of 18th-century America through the story of a family and the journey to political prominence of Charles Carroll of Carrollton, the only Roman Catholic signer of the Declaration of Independence."
"Dear Papa, Dear Charley is a splendid of letters that has much to tell us about the extraordinary family of Maryland. At its most human and basic level, it is the moving account of a family's successes and failures over a period of more than five decades. As American history, it is an extraordinary panorama of the nation's politics, society, and economics at the found. These volumes are a real gem!" - Barbara B. Oberg, Princeton University
This is an oversized or heavy book, which requires additional postage for international delivery outside the US.