Cyclopaedia: or, An Universal Dictionary of Arts and Sciences (5 volumes)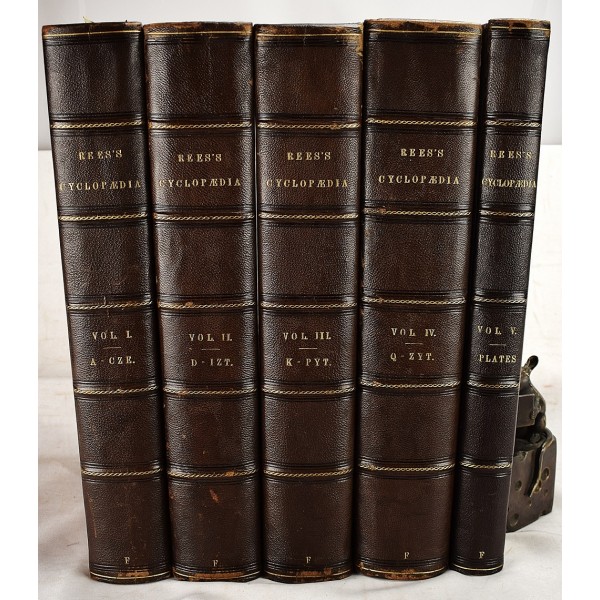 Cyclopaedia: or, An Universal Dictionary of Arts and Sciences (5 volumes)
Ephraim Chambers; Abraham Rees
London : J.F. & C. Rivington, A. Hamilton, et al, 1786
[One of the First Great British Encyclopedias] Five volume set. Includes the plate volume. Folio, 16 3/4 x 10 inches. Bound in 19th century, 3/4 morocco. Marbled endsheets. Approximately 5010 pages. Text printed in two columns. Frontispiece illustrations. Many illustrations in v.5, some folding. Generally clean and sound. Some toning, occasional spotting. Small stamp of the Edwin Forrest Home on front pastedown. Volume 5 has 144 engraved plates (3 folding). Wing G1445A.
An important British scientific, technical and general reference of the late 18th century. Rees edited and greatly expanded Chambers' earlier work. "Rees says that he has added more than 4400 new articles." - Enc.Brit.v.9, 374 p.
This is an oversized or heavy book, which requires additional postage for international delivery outside the US.