British Sports and Sportsmen (Royal Folio Edition) (12 volume set)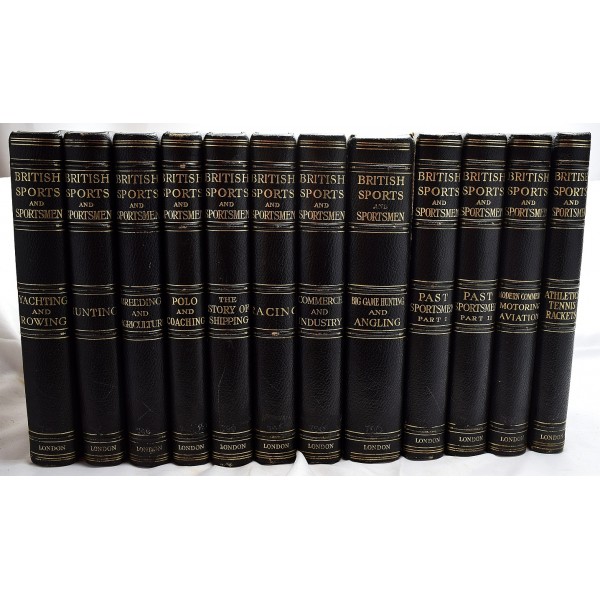 British Sports and Sportsmen (Royal Folio Edition) (12 volume set)
Sports and Sportsmen Ltd
London : Sports & Sportsmen, 1914
12 volumes. Royal Edition. Folios, 39 x 29 cm. A gorgeous and luscious set. Uniformly bound in contemporary gilt ruled morocco. Gold "Cura et Industria" seal on front covers. Gilt inner dentelles. All edges gilt. Bindings and covers in very good condition. Marbled endpapers. Each volume is a limited edition of only 250 copies. Profusely illustrated with frontispieces, plates, and portraits. Title pages in red and black. Internally the pages are crisp and white. Guildford, Surrey library book plates, as well as a few scattered marginal stamps. Manuscript book presentation plate of the Ladies Club of Guildford presenting the books to the city in honor of the 700th anniversary Guildford's charter.
Includes: Vol. 1: Athletic sports, tennis, rackets and other ball games; Vol. 2: Big game hunting and angling; Vol. 3: Breeding, agriculture, country life pursuits; Vol. 4: Commerce & industry; Vol. 7: Hunting; Vol. 8: Modern commerce, transport, motoring and aviation; Vol. 9: pt. 1. Sportsmen of the past; Vol. 10: pt. 2. Sportsmen of the past; Vol. 11: Polo and coaching; Vol. 12: Racing; Vol. 14: The story of shipping; Vol. 15: Yachting and rowing.
Compiled and edited variously by "The Sportsman", "Sporting Life & Sportsman", and in "Conjunction with The Sporting Life".
This is an oversized or heavy book, which requires additional postage for international delivery outside the US.