Bartholomew Dupuy and Susanna La Villan, refugees from France, in the year 1700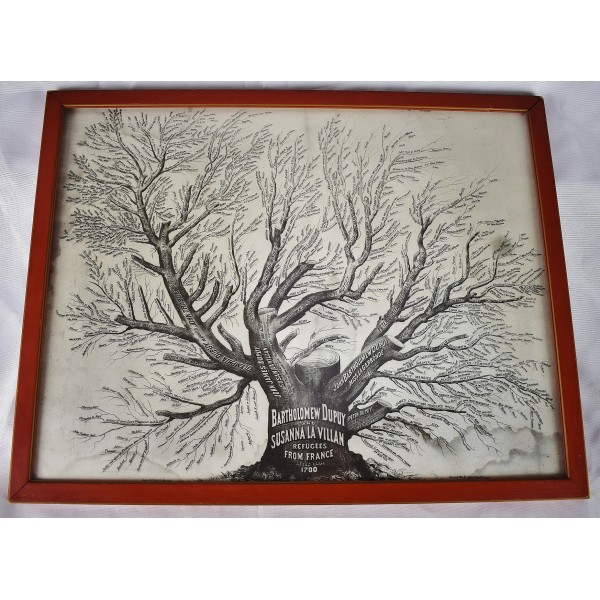 Bartholomew Dupuy and Susanna La Villan, refugees from France, in the year 1700
M J Stovall
Memphis, Tennessee : S.C. Toof & Co., 1867
Lithograph in wooden frame under glass. 37 x 47 cm (in frame). A clean print.
(Side Note: This family tree engraving is also featured on the Tennessee State Library and Archives Genealogy / Search your ancestor's home page.)
Chiefly a record of some of the descendants of Bartholomew Dupuy and Susanna La Villain who were refugees from France in 1700. They were the parents of at least three children. The family settled in Kentucky, Virginia and elsewhere. Drawn by Mrs. M. J. Stovall. After fleeing from France, Du Puy and his wife, the Countesse Susanna La Villain (sometimes spelled Villian), settled in Manikin-Town on the James River, seventeen miles above Richmond. His grand daughter married John James Trabue and had a son named Edward Trabue, who served as a colonel in the America Revolution.