Bishop Burnet's History of his Own Time (2 Volume Set)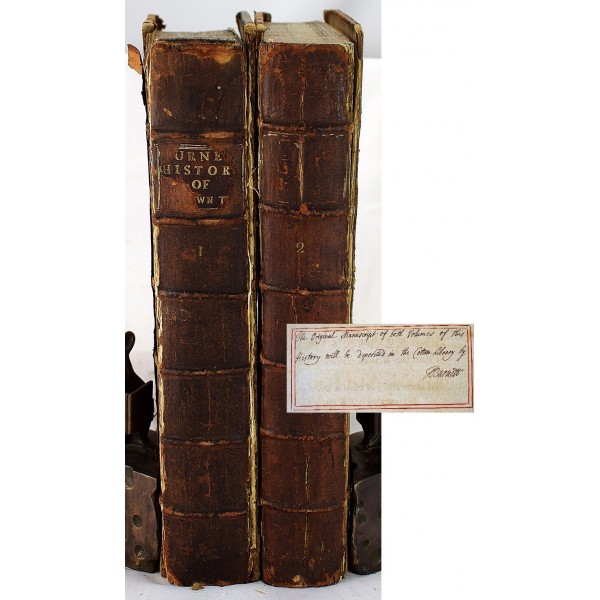 Bishop Burnet's History of his Own Time (2 Volume Set)
Gilbert Burnet; Thomas Burnet, Sir
London : T. Ward, 1724-1734.
[Signed by Burnet] Inscribed: "¬The Original Manuscript of both volumes of this History, will be deposited in the Cotton Library, Burnet." 2 volume set. Folios, 35 cm. Bound in full contemporary, Cambridge-style paneled calf. Covers worn and detached. Some dampstaining to vol 1. ([16], 836, [2] pages; [22], 765, [1] pages)
V. 1. From the restoration of King Charles II to the settlement of King William and Queen Mary at the revolution; to which is prefix'd a summary recapitulation of affairs in church and state from King James I to the Restoration. --V. 2. From the revolution to the conclusion of the Treaty of Peace at Utrecht in the reign of Queen Anne; to which is added the author's life, by the editor. Lowndes I, page 320. "In the second volume Burnet [the editor] ... promised to deposit the manuscript of both volumes ... in the Cotton Library, but failed to fulfill his promise"- Dict. Nat. Biog., v.3, p. 410. Refs: Lowndes I, 320; ESTC T144689.