Atlas of Philadelphia and Its Environs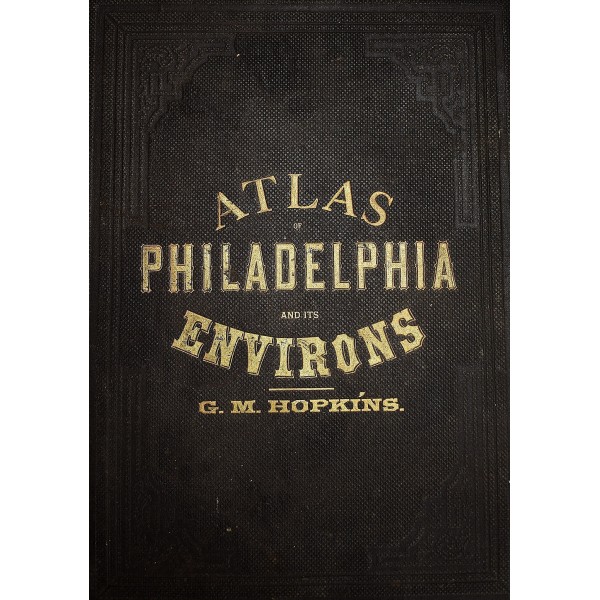 Atlas of Philadelphia and Its Environs
Hopkins, G.M.
G.M. Hopkins / F. Bourquin Steam Lithographic Press, 1877
Folio, 17 1/2 x 14 inches (46 x 37 cm). Modern Reback. 3/4 leather over publisher's brown cloth. Renewed spine. Collated. 72 pages of maps. Edge wear, with marginal chipping and loss. Includes: Pennsylvania: Philadelphia: 1st to 30th wards; Montgomery County: West Conshohocken; Chestnut Hill [part of Springfield]; Lower Merion; White Marsh & part of Springfield; Borough of Jenkintown; Cheltenham; Springfield; Plymouth Township; Abington; Bridgeport; Ambler; Lower Providence; Upper Merion; Norriton; Upper Dublin; Whitpain. Delaware County: Marple & Springfield; Ridley & Tinicum; Radnor; Haverford; Darby; Upper Darby.
New Jersey: Camden & Gloucester Counties. City of Woodbury. Camden County: Haddonfield; Haddon; Merchantville; Centre; Stockton; Delaware. Burlington County: Parts of Cinnaminson and Chester; Riverton and Palmyra. Gloucester County: West Deptford; Deptford; Paulsboro; part of Greenwich. Moak, Atlases of Pennsylvania: 407.