Asia. The First Part, Being an Accurate Description of Persia, and the Several Provinces Thereof. The Vast Empire of the Great Mogol, and Other Parts of India: and their Several Kingdoms and Regions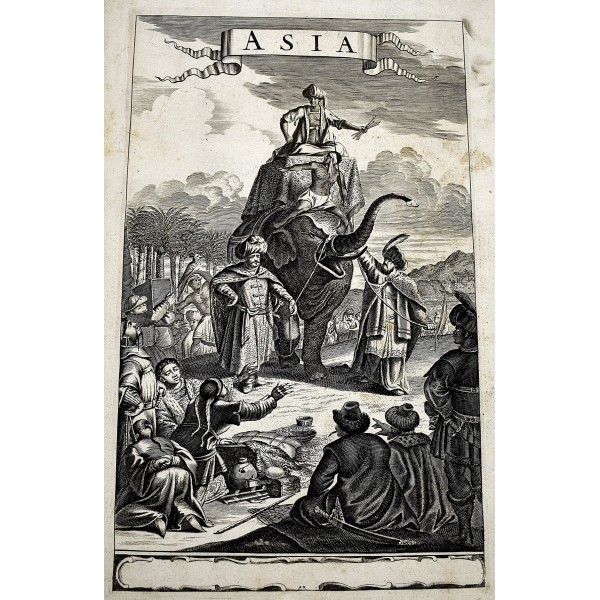 Asia. The first part, Being an accurate description of Persia, and the several provinces thereof. The vast empire of the Great Mogol, and other parts of India: and their several kingdoms and regions: with the denominations and descriptions of the cities, towns, and places of remark therein contain'd. The various customs, habits, religion, and languages of the inhabitants. Their political governments, and way of commerce. Also the plants and animals peculiar to each country
Ogilby, John
London : Printed by the author at his house in White-Friers, 1673
1st ed. Folio; 43 cm. Bound in 18th century 3/4 calf over patterned boards. Rebacked. Marbled end sheets. Marbled edges. Title-page printed in red and black. Printed on two columns. Woodcut factotums and ornaments; type ornaments. Large foldout map of Asia at front; four double-page maps; 26 (of 28) engraved plates (lacking the "Callenkyns, the tenth" and "The Court of the Great Mogol" plates); 30 engravings in text; and an engraved vignette frontispiece. [14], 7, 7-8, 8-253, [19] p.
Although not specified on the title, Ogilby's work is in part a translation of Olfert Dapper's Asia (1672), and covers all of Asia, excluding China and Japan. It contains in particular accounts of the Persian Empire, a discourse on oriental languages and the practice of suttee. References [abound]: Brunet IV, 174; Cox I, 275; DNB, XIV, pp. 908-911; ESTC R32245; Ghani p. 285; Wilson p. 161; Wing O166.
From the collection of United States Ambassador and diplomat, Alexander Weddell (1876-1948). Weddell was US Ambassador to Argentina from 1933-1938. Engraved book plate from Virginia House Museum.
This is an oversized or heavy book, which requires additional postage for international delivery outside the US.