Art Anatomy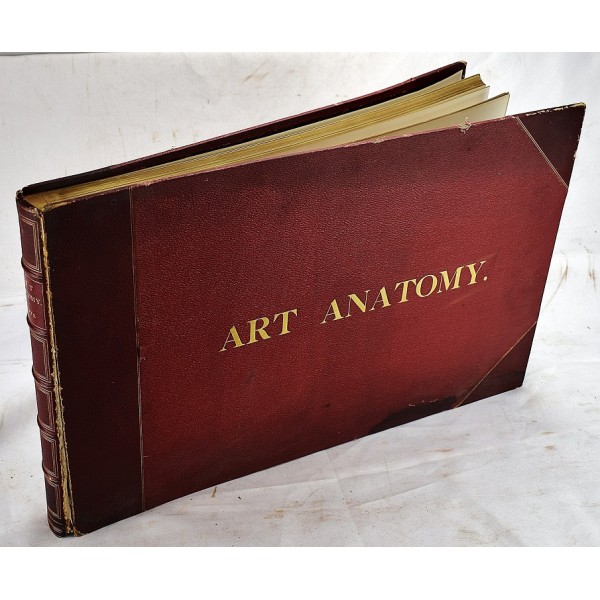 Art Anatomy
Rimmer, William
Boston: Little Brown, 1877
[The Grammar of Expression of the Human Form] Oblong Folio, 36 x 56 cm. Bound in contemporary half red morocco over pebbled cloth. Shelf wear to cover, scuff on top edge. Joints worn. Rear cover dampstained. All edges gilt. Marbled end sheets. Letterpress title, printed in red and black. 81 heliotype plates. Library stamps on title page and along the bottom margin of the plates, touching the plate border. The first thirty plates relate to the head, pointing out in detail how to express character by the comparative prominence of different planes of the face. The rest of the plates are devoted to the body's trunk and limbs. Art Anatomy deals with the human body on a physical, artistic and psychological basis.
The artist, William Rimmer (1816-1879), worked as a doctor in Massachusetts and lectured at Harvard, Columbia, and the Art School of the Museum of Art in Boston on anatomical art. Rimmer's motto: "Art is the language of the sensibilities, and in this tongue every different form describes a different character." His anatomical lectures were so popular that an admirer paid $2000 to publish a collection of 900 of his drawings, which became this book. Although based on the classical Greek and Roman style, none of Rimmer's drawings were copies of past masters. He exhibited at the groundbreaking Armory Show in New York, 1913. His work Evening: Fall of Day, was the basis for the Swan Song record logo used by Led Zeppelin. Per Leonard Baskin, "William Rimmer stands after Rush and Ward as the great American sculptor of the Nineteenth Century, ... The Art Anatomy is so well known that it would be useless for me to bespeak its qualities. It is a great artistic document of nineteenth-century American art." The prohibitive cost of the first edition was so great ($50 in 1877) that few copies of the first edition were sold or printed. Dover reprinted Rimmer's work in the 1960s. It remains in print and still widely used.
This is an oversized or heavy book, which requires additional postage for international delivery outside the US.