An Historical and Critical Dictionary (4 Volumes)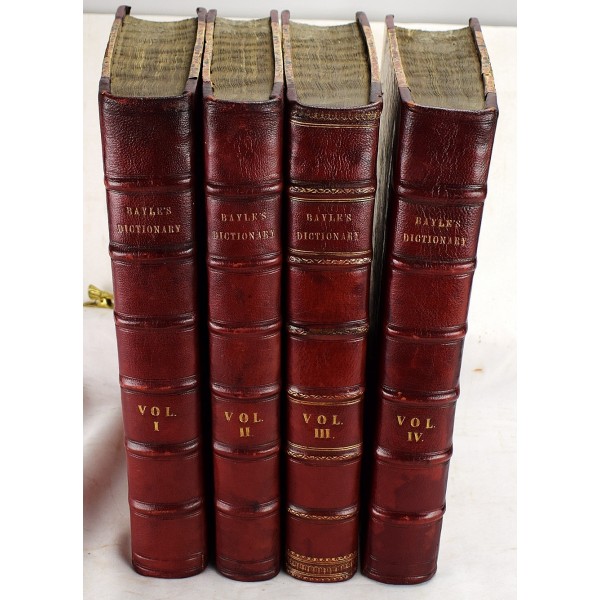 An Historical and Critical Dictionary (4 Volumes)
Pierre Bayle
London : printed for C. Harper, D. Brown, J. Tonson, A. and J. Churchill, T. Horne, T. Goodwin, R. Knaplock, J. Taylor, A. Bell, B. Tooke, D. Midwinter, B. Lintott and W. Lewis, MDCCX, 1710
[First English Edition of Bayle's Dictionary] 4 volume set. Folios, Bound in 1/2 crimson morocco, over marbled boards. Minor shelf wear. Solid bindings. [32], 3108, xciv, [56] p. Engraved vignette to titles. Ownership stamp on front paste down of "Aeneas G. Gordon, Kettle manse, Fife." English translation of Dictionaire historique et critique.
Printing in the Mind of Man 155b: "For over half a century, until the publication of the Encyclopedie, Bayle's Dictionnaire dominated enlightened thinking in every part of Europe" Pierre Bayle's Dictionary is effectively constituted one of the first encyclopaedias of ideas and their originators. In the Dictionary, Bayle expressed his view that much that was considered to be "truth" was actually just opinion, and that gullibility and stubbornness were prevalent. The Dictionary remains an important scholarly work for several generations after its publication."
Pierre Bayle was a Huguenot scholar who fled from French religious intolerance to Geneva and Holland. Bayle's influential encyclopedia was a best-selling philosophical work of the 18th century. The Dictionnaire's influence can be seen on Diderot, Locke, Leibniz, Kant, Hume, Berkeley, among others. The work combined biography, history, literary criticism, theology, obscenity, in addition to philosophical treatments of toleration, the problem of evil, epistemological questions, etc. Bayle's extensive commentary propelled his reader's interest. (Although an avowed Christian by faith rather than by reason, Bayle's fideist approach to the question of God created the logical framework for an atheist worldview. Many of the more controversial ideas in the book were hidden away in the voluminous footnotes, or slipped into articles on seemingly uncontroversial topics. Bayle pointed out contradictions between theological tenets and the supposedly self-evident dictates of reason, though at the same time sought to promote religious tolerance, and argued strongly against inflexible and authoritarian application of religious articles of faith. (The SEP remarks that Bayle's most significant impact is on the impulse towards modern atheism.) (Standford Encyclopedia of Philosophy) Bayle's remarks on Spinoza are particularly interesting. Bayle's emphasis on toleration had important reverberations on the Enlightenment.
This is an oversized or heavy book, that requires additional postage for international delivery outside the US.