A papist mis-represented and represented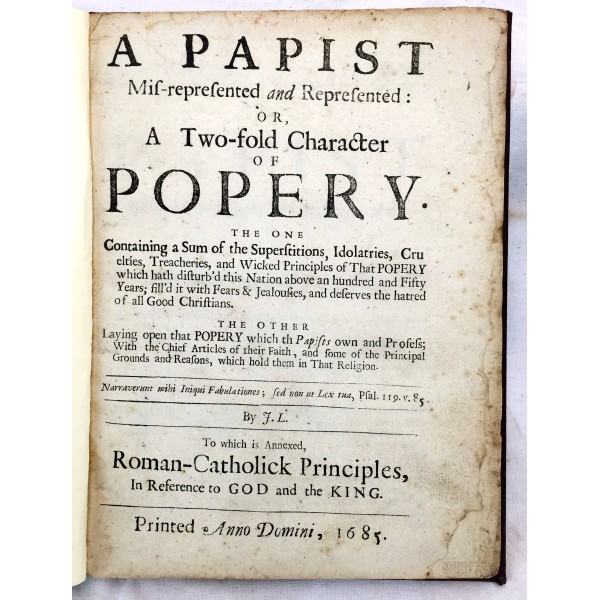 A papist mis-represented and represented, or, A two-fold character of popery : the one containing a sum of the superstitions, idolatries, cruelties, treacheries, and wicked principles of that popery which hath disturb'd this nation above an hundred and fifty years fill'd it with fears and jealousies and deserves the hatred of all good Christians : the other laying open that popery which the papists own and profess : with the chief articles of their faith, and some of the principal grounds and reasons, which hold them in that religion
John Gother; James Corker
[London] : [publisher not identified], Printed Anno Domini, 1685.
Twofold character of popery. 1st ed. [10], 79, [1], 8 pages. By John Gother--Cf. Wing and DNB. J.L., i.e. John Lovell, is the pseudonym of John Gother. 120 page.  Hardcover. Rebound in modern cloth. Good binding and cover. Scattered foxing.  Marginal loss to title.  Wing (2nd ed.), G1334A.   "Roman-Catholick principles" by James Corker has separate signatures & paging; also issued separately. 
John Gother was an English convert to Catholicism.  Gother's Twofold character of poperty, "lists at length commonly held errors as to Catholic doctrine and practice. All such errors are duly "refuted" in the manner of the time, but courteously and in an English style that was well regarded." - DNB. Clancy, English Catholic Books 1641-1700, Chicago, 1973, nn. 431-473.