A New Abridgment of the Law (5 volume set)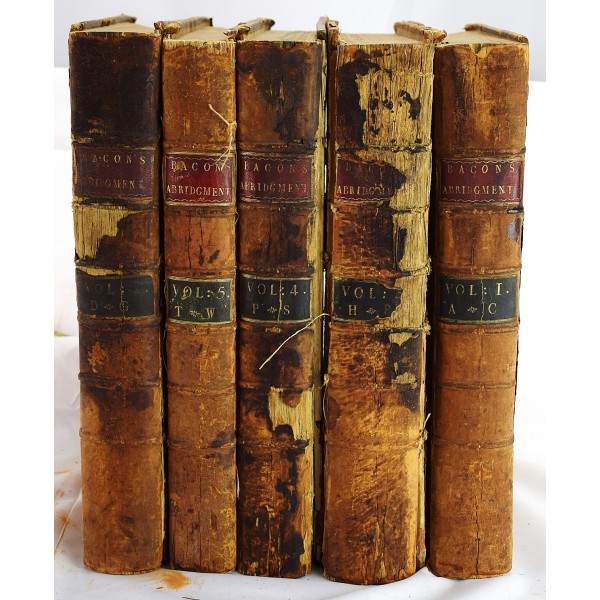 A New Abridgment of the Law (5 volume set)
Matthew Bacon; Gilbert, Sir Jeffrey; Sayer, J.
London: A. Strahan, for T. Cadell, 1778
5 volumes, complete. Folio, 37 cm. Bound in contemporary sheep. Red morocco spine labels. Bindings worn. Hinges cracked. Covers rubbed, dry. Vols. 1 & 2 covers scraped. Generally good internally, but vol. 1 has some marginal tanning, spotting, mostly to prelims. Some dampstaining and discoloration in vol. 4. Vol. 4 front board detached. Sold with all faults.
A widely read work by colonial-era American lawyers. "The standard encyclopedia of common law on both sides of the Atlantic ocean in the 18th century." W. Hamilton Bryson, Legal Education in Virginia, 1779-1978 (UVA, 1982). 749-755 p. The organization of the work more closely resembles a legal encyclopedia with "a series of scientifically constructed treatises on all branches of the law alphabetically arranged." William Holdsworth, A History of English Law, (Methuen, Sweet and Maxwell, 1938), 12:169. Interestingly, both Presidents John Adams and Thomas Jefferson owned copies of this work and used it in their legal practice. An important work in the evolution of American legal thinking.
Early stamp's of W. H Lowdermilk & Co., Law Booksellers, Washington, D.C. Lowdermilk & Co. were legal booksellers at the turn of the century. <br> This is an oversized or heavy book, which requires additional postage for international delivery outside the US.