A History of Japan (3 Volumes) : Vol I - from the Origins to the Arrival of the Portuguese in 1542, Vol II - During the Century of Early Foreign Intercourse (1542-1651) , Vol III - the Tokugawa Epoch (1652-1868)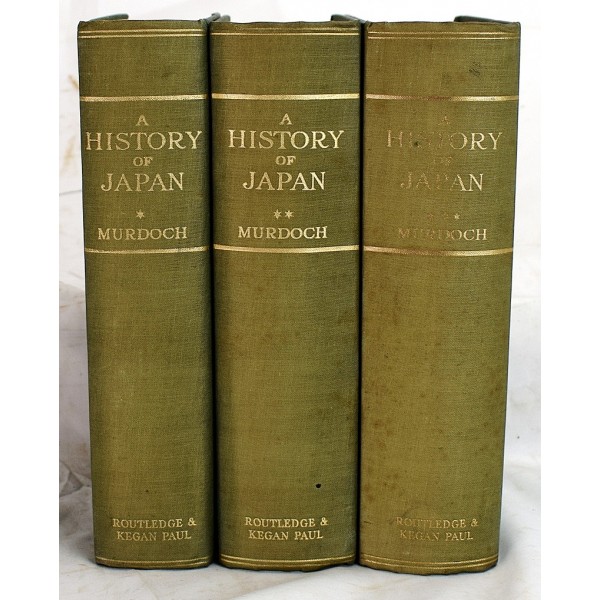 A History of Japan (3 Volumes) : Vol I - from the Origins to the Arrival of the Portuguese in 1542, Vol II - During the Century of Early Foreign Intercourse (1542-1651) , Vol III - the Tokugawa Epoch (1652-1868)
Murdoch, James with Maps by Isoh Yamagata
Kegan Paul, Trench, Trubner,1949
3 volume set. Bound in publisher's green cloth, with gilt lettering. Very good bindings and covers. Spines slightly sunned. viii, 667, viii, 743, xvi, 823 pp, index, many color folding maps. Light foxing.
Contents: Vol. 1. From the origins to the arrival of the Portuguese in 1542 A.D.; Vol. 2. During the century of early foreign intercourse (1542-1651); Vol. 3. Tokugawa epoch, 1652-1868. <br> Vol. 1-2, 3rd impression. Vol. 3, 1st impression. Vol. 3 revised and edited by Joseph H. Longford. At Longford's death the work was transferred to L.M.C. Hall. Maps by Isoh Yamagata. First published in 1903, Murdoch's work quickly became an important reference in Japanese history.
This is an oversized or heavy book, which requires additional postage for international delivery outside the US.