A Bridle for the Tongue: Practical Discourses...Of Blasphemy, etc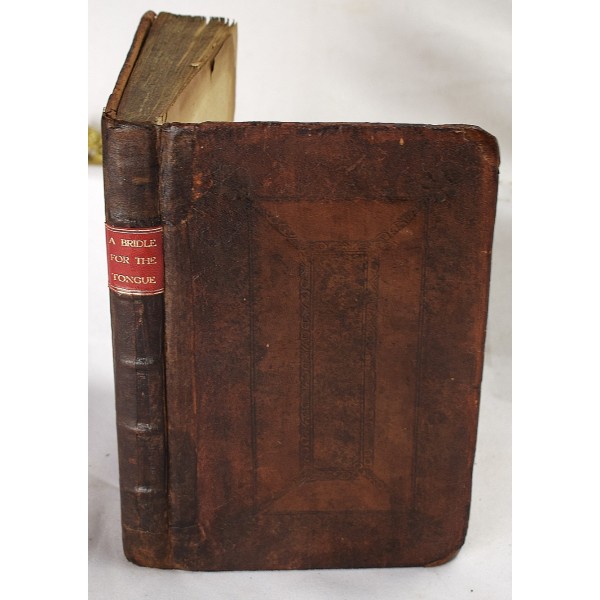 A Bridle for the Tongue: Practical Discourses...Of Blasphemy, etc
Henry Hooton
London : Printed for W. Taylor, at the Ship in St. Paul's Church-Yard, 1709
[Rare Early English work on Slander and Blasphemy] Bound in contemporary blind stamped leather. Rebacked, with original spine partially conserved. Marginal browning (old damp stain) to end page, title, decreasing into the text. [4], 244 p.; 20 cm. ESTC T72972.
The title is a reference to James 1:26; "If anyone thinks himself to be religious, and yet does not bridle his tongue but deceives his own heart, this man's religion is worthless." (See also Pslam 39.1) In Hooton's discourse against blasphemy, he lays his argument's foundation on biblical passages, the works of Thomas Aquinas, Bishop Hall and classical sources, such as Cicero. Hooton identifies malicious or sinful talk and attempts to regulate the conduct of men's life and speech. His treatise is especially interesting when considered in juxtaposition to the Enlightenment concept of freedom of speech. When is lawful and right to imprison someone for words? From Hooton, introduction, p. 4: "An Evil the Tongue is, and therefore ought to be to be confined, and chain'd down, like some fierce and ungovernable Beast." Implicitly, Hooton makes an argument for denying freedom to those who turn crimes of thought into words. See: Laurie Throness, "A Protestant Purgatory: Theological Origins of the Penitentiary Act, 1779," Ashgate, 2008. p. 221.
Full title: A bridle for the tongue: or, some practical discourses under these following heads, viz. Of prophane, or atheistical discourse. Of blasphemy. Of rash and vain swearing. Of False-Accusing, or bearing False-Witness. Of Calumny, or Slander. Of Detraction, or Backbiting, and of Tale-Bearing, and Reproof. Of Censoriousness, or Rash Judging. Of Scoffing, Derision, or Mocking. Of Contumely, or Reproach. Of Imprecation, or Cursing. Of Brawling, Quarrelling, or Wrangling. Of Dissimulation, or Deceit. Of Flattery. Of Lying, Equivocation, Promise-Breaking, and Discovering Secrets. Of Talkativeness, Garrulity, or Vain Babbling. Of Ostentation, or Boasting. Of Querulousness, or Murmuring. Of Foolish Jesting. Of Obscene, and Immodest Talk.