The Holy Land - David Roberts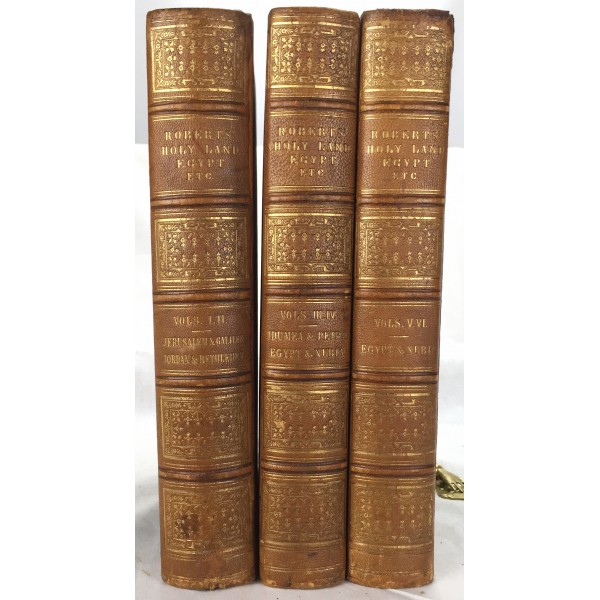 The Holy Land, Syria, Idumea, Arabia, Egypt & Nubia. 6 Books Bound in 3 Volumes
Roberts, David (ill.); George Croly; William Brockedon; Louis Haghe
Day and Son, 1855-1856.
6 volumes bound in 3. Tall octavos, 31 cm.  1/2 morocco leather binding over green cloth. Gilt spine. Front joint of Vol. I restored.  Gold medallion on front cover, Deus Vult. All edges gilt. Good bindings and covers. Long inscription to Volume I, dated 1948, from Ronald Ian Campbell, British Ambassador to Egypt, to Walter Forbes.  250 tinted lithographed plates, (but with a second example of plate 109 in place of plate 111). Plates very clean and attractive. Some minor foxing and toning to text.
First published from 1842-49, David Robert's views of the Holy Land was a masterpiece in lithography.  Roberts toured Egypt, Alexandria, the Sinai, Petra, Jerusalem, Palestine, Lebanon, and Baalbec in 1838-1839, making sketches and drawings as he traveled.  His tour produced three full sketchbooks and enough material to "serve me for the rest of my life" (Roberts, eastern journal, 28 Jan 1839).  "Robert's Holy Land was one of the most important and elaborate ventures of nineteenth-century publishing, and it was the apotheosis of the tinted lithograph" (Abbey, Travel).  The octavo edition is illustrated by photographic plates of the originals.  Cf. Allibone and Brit. mus. Catalogue Abbey, Travel 388 (see also 272 and 385).; Toolely 401, 402; Ray 88. George Croly; William Brockedon.
This is an oversized or heavy book, that requires additional postage for international delivery outside the US.