1938; 1939; 1940; 1941-1942; 1943-1944 A.D. World War II Cartoons of Shoemaker and the Chicago Daily [Signed, with portrait] (4 volumes)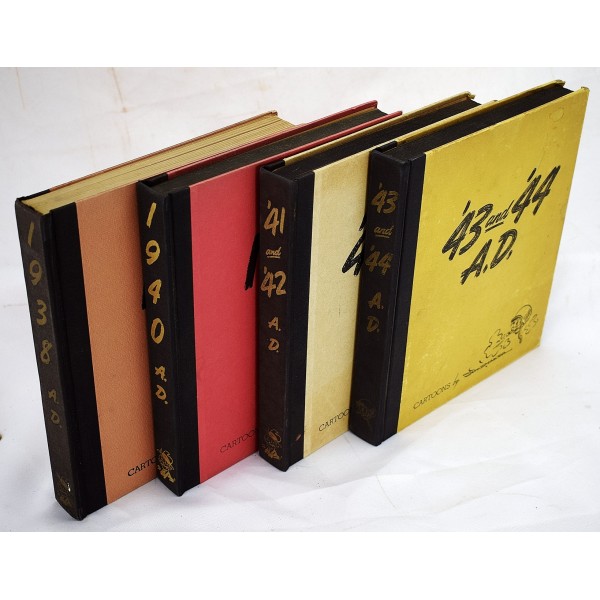 1938; 1940; 1941-1942; 1943-1944 A.D. World War II Cartoons of Shoemaker and the Chicago Daily [Signed, with portrait] (4 volumes)
Shoemaker, Vaughn
Chicago Daily News, 1938
[The Wartime Cartoons of Vaughn Shoemaker] 4 volume set. Autographed, with self-portrait by Shoemaker in first volume. Limited editions of 500 to 1500 copies. Bound in publisher's black cloth spine over printed boards. Good bindings and cover, with light shelf wear. Pages clean, unmarked.
Shoemaker spent 22 years at the Chicago Daily News as an editorial cartoonist from 1922 to 1952. He created the character, John Q. Public, a depiction of the common man. In 1938 he received the Pulitzer Prize for his 1937 work "The Road Back." In the cartoon a soldier is shown marching towards "World War" away from the 1937 Armistice Day; this illustration is shown in the 1938 volume included in this set. His cartoons were criticized by Herman Goering who described his work as "horrible examples of anti-Nazi propaganda".
This is an oversized or heavy book, which requires additional postage for international delivery outside the US.